Anh Do - third show
Published on 30 November 2016, by
Start Date: 17 Mar 2017
Time: Doors open 7.30pm | Show 8.00pm (90 min duration, no interval)
Finish Date: 17 Mar 2017
Target Age: Minimum age for children is seven years. Please note infants and toddlers are not allowed due to the nature of the show.
Cost: $60.20
Location: Macarthur Auditorium
Contact: (02) 4655 8681
Email: camdenciviccentre@camden.nsw.gov.au
Bookings: https://www.trybooking.com/231690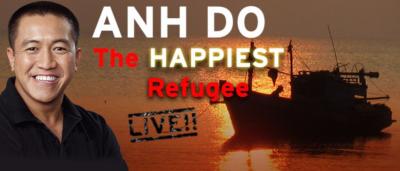 Anh Do's bestselling book The Happiest Refugee has made readers laugh and cry, and was describes by Russell Crowe as "the most surprising and inspiring read I have had in years." Anh's new stage show takes it a step further, combining stand-up comedy with real life stories, photos and filmed pieces to retell his amazing story.
When one of Australia's most talented comedians delves deep into his own life's joys and sorrows, the result is an unforgettable night at the theatre that leaves an audience uplifted and quite simply experiencing ... happiness.
"irrepressible good humour, infectious energy and bright optimism" ... The Sydney Morning Herald
"the happiest audience experience I have ever had" ... Arts Hub
"Two thumbs, five stars, show of the season" www.themusic.com.au  
SHOW DATES:
THUR 2 FEBRUARY 2017 - 1st Show - Sold Out!
FRI 17 March - 3rd Show - Sold Out!
SAT 18 MARCH  - 2nd Show - Sold Out!
SAT 24 JUNE - 4th Show - Sold Out!
Would you like to be the first to know about future shows at Camden Civic Centre? Simply fill in the contact form on the contact page and select subscribe. Your details will then be added to our monthly e-newsletter.