Jimeoin - Renonsense Man
Published on 24 April 2017, by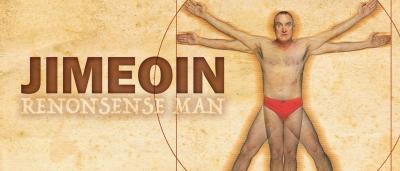 "Classic nonsense… Stand-up comedy at its best" (Scotsman).
Brilliantly observed, ever-evolving stand-up from acclaimed star of Live at Apollo, Royal Variety, Channel and Sunday Night at the Palladium.
"Jimeoin recalls the familiar at a fantastically silly level, boiling his audience down to a tear-filled, gibbering mess" (Scotland on Sunday).
"Comedy of the highest order… Inspired ramblings" (Independent).
Would you like to be the first to know about future shows at Camden Civic Centre? Simply fill in the contact form on the contact page and select subscribe. Your details will then be added to our monthly e-newsletter.