Lah Lah - Santa's Got a Brand New Groove
Published on 16 August 2017, by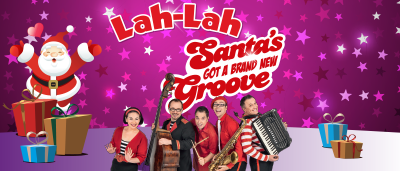 Get ready for a Christmas concert like no other as TV's stripy-socked singing sensation Lah-Lah gets set to spread some magical festive cheer to families across the land this festive season.

With Santa's Got a Brand New Groove, the award winning Lah-Lah will get everyone up dancing to their much-loved tunes, some Christmas favourites with a special Lah-Lah twist, and lots of laughs. Plus, there will be a special surprise visit from you know who, and he has been practising his trombone so he can join the band! Whether you're aged one or a hundred, mum or a dad, gran or granddad or even aunty or uncle, you're guaranteed to love this special Christmas live music show from some of Australia's most talented performers and music educators. Meet Mister Saxophone, Squeezy Sneezy, Tom Tom, Buzz the Bandleader, Lola the Dancing Double Bass and the ever loveable Lah-Lah Live in Concert! Following SOLD OUT shows around Australia this year Lah-Lah will delight audiences and have the whole family up singing and dancing.

It's a Christmas show that will have the kids grinning and shimmying from go to whoa. Children can slip on their dancing shoes and bop away to the fun-filled sounds of Lah-Lah and the band that jams all over the land.