Lawrence Mooney - Like Literally
Published on 8 May 2017, by
Start Date: 13 Oct 2017
Time: 8.00pm. Duration: approx 80 min. No interval.
Finish Date: 13 Oct 2017
Cost: $45.20 inc booking fee
Location: Camden Civic Centre, Auditorium
Contact: (02) 95 600600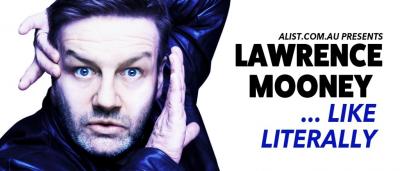 Sydney Comedy Festival Award Winner Lawrence Mooney is a must see with his hilarious new show weaving anecdotes and cautionary tales into a patchwork that is him, like literally.
"Funny, insightful, well-written, beautifully paced stand-up" - Herald Sun ****
"Relentless is the word for it. Lawrence Mooney batters his audience with an onslaught of proven, polished stand-up, driven home with a commanding delivery." - Chortle
Would you like to be the first to know about future shows at Camden Civic Centre? Simply fill in the contact form on the contact page and select subscribe. Your details will then be added to our monthly e-newsletter.