The Art of Ageing Exhibition
Published on 2 January 2018, by
Start Date: 25 Feb 2018
Time: 9am to 5pm, Monday to Friday, for the month of February
Finish Date: 25 Feb 2018
Cost: Free
Location: Camden Civic Centre Ferguson Gallery
Contact: (02) 4655 8681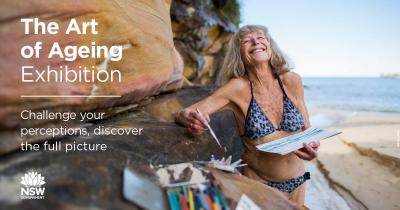 Come along to the Art of Ageing exhibition - challenge your perceptions, discover the full picture.
Ageing is not just about eating better and exercising more. And many perceptions about older people are just plain old.
Like the rest of the western world, NSW is ageing.
As part of the renewal of the NSW Ageing Strategy, photographer Louise Hawson has been documenting the lives of older people. 
These photographs and stories are being exhibited to celebrate the launch of the Strategy. 
Come to the exhibition and discover the full picture. How do you feel about growing older?