The King in Concert - starring David Cazalet
Published on 1 August 2017, by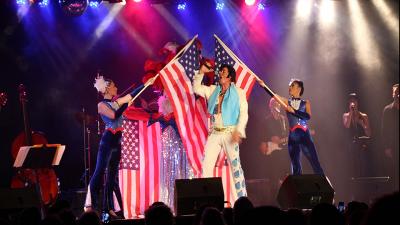 The King in Concert is an up close and personal glimpse inside the Elvis Presley Song Book!
The Show's Star – David Cazalet explores Elvis hits, tender ballads and gospel songs with a spine tingling vocal ability and feel.
Elvis' country and movie favourites are not forgotten in this show with David encouraging the audience to sing along in songs like "Wooden Heart and Can't Help Falling in Love."
The King in Concert Band line-up includes some of our country's finest musicians. The harmonies by Adrian Payne (Bass Baritone), with Trevor White (star of Jesus Christ Superstar) has to be heard to be believed.
The show includes a segment where David takes requests from the audience, ensuring "The King in Concert" is a unique Elvis event for you and your friends!