Beats for Pete
Published on 4 April 2019, by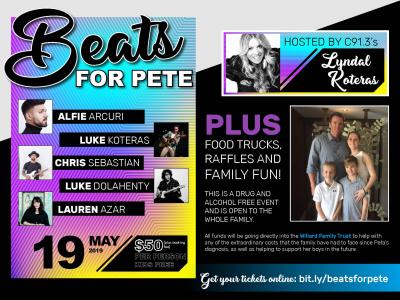 Macarthur's biggest artists performing under one roof!
Beats for Pete is your chance to see Alfie Arcuri, Chris Sebastian, Lauren Azar, Luke Koteras and Luke Dolahenty LIVE on stage in a showcase of sound! It's not every day the stars align to bring you all of these artists at the same venue on the same day, so don't miss your chance to be a part of it.
Hosted by C91.3fm breakfast announcer Lyndal Koteras.
This is a drug and alcohol free event and is open to the whole family. Kids under 12 are FREE.
ALL funds will be going directly into the Willard Family Trust to help with any of the extraordinary costs that the family have had to face since Peta's melanoma diagnosis, as well as helping to support her boys in the future.