NAIDOC CAMDEN
Published on 1 July 2019, by
Start Date: 07 Jul 2019
Finish Date: 10 Jul 2019
Contact: (02) 4655 8681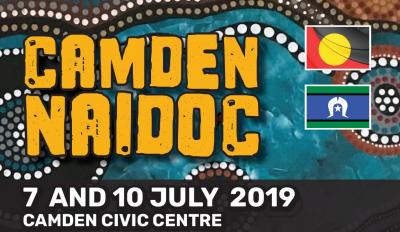 WEAVING THE WAY FORWARD
JULY 5, CAMDEN CIVIC CENTRE
Weave the NAIDOC Tree; The wrapping of a tree, symbolises our roots and growth, our beginnings and ancestry. Wrapping the tree in traditional colour and theme embraces our culture. The public placement at the gateway to Camden's cultural venue is significant, raising awareness of our unity and commitment to respect.


PAINTING OF HITCHING POST
JULY 7, ALAN BAKER GALLERY 11AM – 4PM
Indigenous artist Roy Murray will paint the hitching post at the Alan Baker Gallery with his original Indigenous work. Admire Roy's work as he paints the post as a public installation.


INDIGENOUS ROCK PAINTING – FREESCHOOL HOLIDAY WORKSHOP
JULY 7, ALAN BAKER ART GALLERY COURTYARD 11AM & 1PM
Come as a family and enjoy a family rock painting workshop with Indigenous Artist Gina Glover. www.trybooking.com/BDOWO


BUSH TUCKER MORNING TEA – CELEBRATING OUR INDIGENOUS CULTURE
JULY 10, 9.30 - 10AM, CAMDEN CIVIC CENTRE


AN ARTISTS JOURNEY—hosted by CRET
JULY 10, 10AM – 11.30AM, CAMDEN CIVIC CENTRE
Contemporary Aboriginal Artist Danielle Mate Sullivan shares the story of her success as an artist and business owner. Danielle will be joined by a panel of business development and legal experts who will discuss the challenges and opportunities artists face. Register: www.cret.com.au/events


INDIGENOUS ROCK PAINTING – FREESCHOOL HOLIDAY WORKSHOP
JULY 10, 11AM & 3PM, CAMDEN CIVIC CENTRE
Come as a family and enjoy a family rock painting workshop with Indigenous Artist Gina Glover. Informal workshops at 11, and 3pm in the garden under the NAIDOC tree at the Camden Civic Centre www.trybooking.com/BDOXB


LAUNCH OF THE NAIDOC ART EXHIBITION
JULY 10, 11.30AM – 12.30, CAMDEN CIVIC CENTRE
The works of Danielle Mate Sullivan, Gina Glover, Roy Murray, Vanessa Possum and Jo Tanginoa will be featured. Enjoy a traditional BUSH TUCKER morning tea prepared by Goanna Hut. Open to the public.


MATES PUZZLES – COMMUNITY ART PIECE
JULY 10, 12.30 – 2.30PM, CAMDEN CIVIC CENTRE
Danielle Mate Sullivan will lead the creative development of a community art piece that embraces unity, connection and reconciliation – 'Closing the Gap'. Participants will share their story, painting a positive interpretation of themselves on a puzzle piece to be shared with the community for years to come, exhibited as part of the Camden Art Prize Collection. Each piece of the puzzle is symbolic of our understanding, connection, friendship and community designed to represent a face with one side listening the other speaking. To be involved please email you interest to: civiccentre@camden.nsw.gov.au


INDIGENOUS WEAVING WORKSHOP WITH CARMEN SANDY
JULY 10, 3PM CAMDEN CIVIC CENTRE
Workshop for 15+years, experience the art of traditional Indigenous weaving with award winning Indigenous artist Carmen. www.trybooking.com/BDTSN


THE STORY OF NAIDOC
JULY 10, 6PM – 6.30PM, CAMDEN CIVIC CENTRE
Uncle Ivan Wellington will open with a traditional welcome to country, and share the story of NAIDOC, yarning circles and the Indigenous community. Come along and enjoy BUSH TUCKER supper.


THE 'WEAVING THE WAY' WORKSHOP WITH JO TANGINOA
JULY 10, 6:30PM, CAMDEN CIVIC CENTRE
Local Indigenous artist Jo Tanginoa will share with attendees Indigenous weaving, open to 12+years, Jo is recognised locally for her encouragement of local youth and support for Indigenous cultures. www.trybooking.com/BDTSQ

THE NAIDOC EXHIBITION OF WORKS The NAIDOC exhibition will remain open for public viewing July 10 - 19. To view visit the Camden Civic Centre during business hours Monday – Friday 9am – 5pm.