Camden Wellness Expo 2021 - POSTPONED
Published on 25 May 2021, by
Start Date: 08 Aug 2021
Time: Various sessions
Finish Date: 08 Aug 2021
Cost: Free. Registration required.
Location: Camden Civic Centre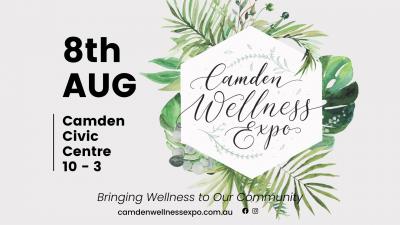 UPDATE: Due to the recent COVID-19 lockdown by the NSW Government, this event been postponed. Date TBA.


The Camden Wellness Expo is a FREE community event that connects the practitioners of Camden, to the people of Camden. This gives you the chance to find the right practitioner for you without the lucky dip of moving from therapist to therapist.

Connect with a range of Naturopaths, Nutritionists, Kinesiologists, Massage therapists, Acupuncturists, Chiropractors, Psychologists, Counsellors, Life Coaches, Energy healers, Aromatherapists, Personal Trainers and Yoga Teachers.

We have researched and handpicked over 60 practitioners that are committed to sharing the wellness message. Every business involved is qualified and specialised in their field. They are insured, genuine and experienced in serving the local community and are truly wonderful people!
Each retailer has shown its commitment to providing wellbeing to the community and the environment and have a long standing reputation amongst Camden.


*Subject to change in response to COVID-19 Public Health Orders relevant at the time of the event.