The Rubens - Album Launch Party
Published on 4 June 2018, by
Start Date: 30 Jun 2018
Finish Date: 30 Jun 2018
Location: Camden Civic Centre
Contact: Tickets will be sold by The Rubens, not the venue. Tickets go on sale Thursday 7th June. Please monitor The Rubens Facebook/event page and The Rubens website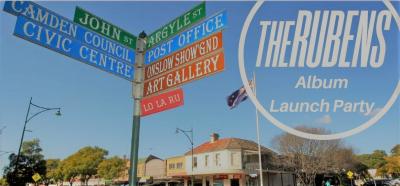 The Rubens will be playing a hometown show to celebrate the release of their 3rd album 'LO LA RU' (out 29th June).
The event will be taking place at the Camden Civic Centre on Saturday 30th June.
Join the Rubens, local bands & friends, The Dardi Shades and Hollie Col
Tickets will be sold by The Rubens, not the venue. Tickets go on sale Thursday 7th June. Please monitor The Rubens Facebook/event page and The Rubens website
Facebook https://www.facebook.com/events/2864687836950155/
Website http://therubensmusic.com
All profits will be going to a local charity!
This is a LICENSED ALL AGES event. 800 tickets will be sold.
Supported by Camden City Council and Camden Civic Centre.