Camden Kiddies' Concert featuring Fisher's Ghost Youth Orchestra
Published on 20 December 2018, by
Start Date: 17 Mar 2019
Time: 1.45pm for 2.00pm start. Show duration 45 – 50min.
Finish Date: 17 Mar 2019
Target Age: 2-6 years
Cost: $5.00 combined admission for one child & adult. Additional Children $5 each. Bookings essential.
Location: Camden Civic Centre, Ferguson Gallery
Contact: 4655 9724
Email: carlamhill@bigpond.com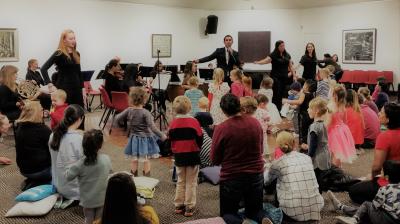 Once again we are delighted that the Fisher's Ghost Youth Orchestra, led by conductor and educator, MAESTRO David Griffin, will be performing for the youngsters of Camden at the Civic Centre. 
The children will be introduced to each instrument of the orchestra and they will be able to experience the sounds of a live orchestra in action – playing everything from classical music to TV songs and favourite nursery rhymes. The programme is designed for kiddies aged 2 to 5 or 6. 
As the children will be sitting on the floor, it would be advisable to bring an easily identifiable cushion with you, so your child is comfortable for the 45 - 50 minute performance. Chairs will be provided for adults and children who are not happy about being so close to the centre of activity. 
The performance will start at 2.00 pm sharp and we recommend that you arrive a few minutes early so that you can find a place before the programme commences. 
Numbers of children will be limited so that those attending can better interact with the orchestra members and their instruments. Children are to be accompanied by an adult and entry is by a combined one child/one adult ticket ($5.00). Extra children will each need a ticket @ $5.00. A gold coin donation from each additional adult (at the door) would be appreciated.
Supported by: Camden Council, Macarthur Anglican School, ADFAS