Seniors Lunch
Published on 5 September 2019, by
Start Date: 11 Sep 2019
Time: 11.00am to 1.30pm
Finish Date: 11 Sep 2019
Target Age: Seniors
Cost: $25 per person. RSVP Monday 9 September. Limited tickets.
Location: Camden Civic Centre Auditorium
Contact: (02) 4645 5020 - Community Project Officer - Seniors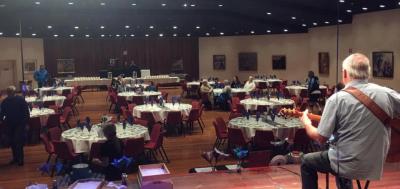 Camden Seniors Program Committee will be hosting a Spring Seniors Lunch.
A 2-course lunch meal will be provided as well as live entertainment by Mark and Trish the 'Honey Sippers' and of course raffles…see you there!
Tickets available from Camden Library, Narellan Library or Oran Park Council Offices - 9am to 5pm Monday to Friday.
Please note:
If you are part of a group, please let staff know when you are purchasing tickets so you can be seated together.